Wildervanck Bed & Breakfast
Keizersgracht 498
1017 EH Amsterdam
The Netherlands
Tel.: 00 31 (0)20 6233846
E-mail: info@wildervanck.com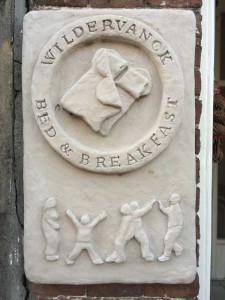 Travel planner
You can get to Wildervanck B&B in various ways.
| Title | Address | Description |
| --- | --- | --- |
| Wildervanck Bed & Breakfast | Keizersgracht 498, 1017 EH Amsterdam, Nederland | |
By plane
Schiphol (Amsterdam airport) is the nearest airport to Amsterdam. From there you can get to our B&B in about half an hour by taxi or in 50 minutes by a combination of train and tram.
By bus
From Amsterdam airport you can take bus 397 into Amsterdam. This bus stops at "Leidseplein" which is the closest bus stop to our B&B. From there, it is about a 10-minute walk to Keizersgracht 498.
By train
The nearest railway station is Amsterdam Central. For information on train timetables: www.ns.nl .
From the station you can take a taxi or a tram. Walking from the station is also a nice option if you don't have too much luggage. You will reach our B&B in about half an hour.
By tram
From Central Station it is 15 minutes by tram to our B&B. Trams 2, 11 and 12 stop at "Keizersgracht". From there, it is a few seconds walk to Keizersgracht 498.
By car
Coming from any direction to Amsterdam just follow the signs for "Centrum". You will get the most effective directions using the travel planner on this page.
Parking:
In the parking spaces next to the canal. You have to pay at the nearest parkingmeter.
Nearly opposite our B&B on Keizersgracht 481-485 is a secure indoor car park.
The car park Olympisch Stadion, Stadionplein 44 in Amsterdam South. Parking here is much cheaper and they offer you a public transport ticket inclusive or 2 bikes for the time of your stay.
More information: www.bereikbaar.amsterdam.nl
By bike
For most locals the bike is the most common way to move from one place to another. You can park your bike in front of the house. Just make sure that the bike is locked and attached by a chain to one of the iron bars which are meant for this.
On foot
Amsterdam is a fantastic city to explore on foot. Wildervanck B&B is centrally located and you can reach almost any major sight in 1 to 20 minutes.
By boat
Amsterdam has become a well-known port for cruise ships. The cruise terminal and jetties can be found at the river 't Y just behind the railway station. We recommend taking a taxi from there if you have a lot of luggage.
The B&B is perfectly located for getting to us by a small boat and moor right in front of our house on the Keizersgracht.
Wildervanck B&B can also be found at:
Disclaimer: Wildervanck B&B provides these links as a service but cannot be held responsible for the content of the websites.